Congratulations 2019 First in Class award winners! Please carefully review the information and deadlines below. We are excited to recognize your 4 years of hard work, but we do need some important information from you to prepare for the June 27 awards ceremony.
2019 First In Class Award: Note To Scholarship Winners
Step 1: Complete online information form by Tuesday, June 4 (link below)
Step 2:
After you receive the formal invitation via US Mail
, RSVP
by calling (661) 827-3154
For more information, please contact the Superintendent's Office at (661) 827-3154.
Step 1 - Information Form
Congratulations on winning a KHSD Superintendent's First In Class Award!
First in Class Recipient Info Form
(Please submit as soon as possible, even if you are unable to attend.)
(For information about the form, contact Noelle Martin at 827-3172.)
This form
asks
you six questions about your plans for the future, the answers to which will be used in the First in Class Brochure.
1. What is your name and the name of the KHSD school of graduation?
2. Which college or university will you be attending next year?
3. What is your intended major? If "undecided" please indicate.
4. What is your intended career goal? (doctor, lawyer, engineer, etc.)
5. Where and what will you be doing in 10 years?
6. Which photographer took your senior photo?
If you are unable to use the form to submit the questions, please email answers to these questions and the best number to reach you to noelle_martin@kernhigh.org

Step 2 - RSVP

The awards ceremony will be held on Thursday, June 27, 2019 at the DoubleTree Hotel @ 6:30 pm. You will receive a formal invitation in the mail. Once you receive the invitation, please RSVP by calling 661.827.3154 – your family members are invited.
2019 First In Class Awards Ceremony Information
During the ceremony, a plaque will be presented to each "first in class" student. A plaque will also be presented to the parents of each student. The plaque presented to your parents will include the photo you have provided us.

At the event, a photograph will be taken of each First in Class recipient with their parent(s) and the Superintendent. You will be mailed a copy of the photo. Each recipient will receive a scholarship, the amount of which is undetermined (at this time). The scholarships are funded with private donations which will be collected within the final days prior to the First in Class ceremony.
Example of First In Class Brochure Layout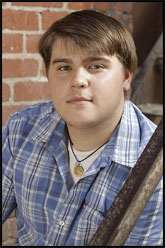 Alex Smith
Bakersfield High School
GPA: 4.50
To attend: Cal Poly, San Luis Obispo
Major: Bio Engineering
Career goal: Undecided